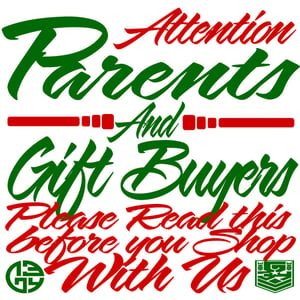 $

0.01
First of all, thank you for coming by our site.
We want to make sure that our use of slang and humor is not misinterpreted as unprofessional. We like to have fun and enjoy being the creators of trending fashion and hot accessories.
Here are a few points to consider when making your purchase:
1. Is my purchase secure?
Be assured, your information is protected with us. We use PayPal specifically for that reason. Your security is as important to us as your business.
2. How come your products are not in-stock/ready-to-ship immediately when I purchase?
All of our products are MADE TO ORDER. We have a small staff of family and friends to make sure that your purchase is processed with the focus on quality. We DO NOT have a warehouse of pre-prepared shirts & socks to dump onto the public.
3. Are your products authentic or fake?
We are a boutique design brand that prints on high quality products from big brands such as NIKE, Adidas, Hanes, ProClub, etc. Our socks are authentic and are either directly from NIKE or Adidas, or one of their authorized dealers.
4. What's the difference between your custom socks and your competitor's?
We choose to print our socks with a higher quality process than other sites. This makes our socks more vivid in color and keeps the design looking great throughout the sock's lifetime, as long as proper care is taken.
5. Do you accept RETURNS or EXCHANGES?
Since everything we do is made to order, we DO NOT accept returns or exchanges. This is of EXTREME IMPORTANCE on our socks. For HYGIENE purposes, socks cannot be exchanged or returned, for any reason. If you are unsure what style and/or size your gift receiver would appreciate the most, you can also purchase a gift certificate.
6. How do I purchase a GIFT CERTIFICATE?
We have a GIFT CERTIFICATE button under our products. Please click on the button, and follow the instructions. Our gift certificates are done through PayPal, so they are also a secure purchase.
7. Do you have a Black Friday sale?
Yes! If you have joined us on facebook, Intagram or Twitter, Fans were given a discount code.
8. I have more questions, comments, where can I contact you?
You may send any questions or comments to: g34andmore@aol.com. Please allow 1-2 business days for a reply. (Although, most replies are considerably shorter than that.)
Thank You for your time!